Friends and family,
Happy new year! This last year has been an incredible one — beyond anything I could've imagined when it started. I'm brimming with gratitude for all of it, and especially for your presence in my life and the ways you've been part of my adventures this last year.
It was a year of doing what I love, in a way and on a level that I've never done before. And in some ways it's a stark contrast to the year before where a big part of my story was burning out, finding support and the slow and long road to recovery. The two years kind of couldn't be more different. It was a real joy to start 2013 feeling like myself again, and the rest has been a rollercoaster.
Some of my favorite stories and reflections from the year are below. I've posted some of my favorite photos of the year with some stories in the captions (like my brother's first performance at the MET!). Want to get this by email next year? Sign up here. I've also started sending out weekly notes/reflections of mine, channeling a bit of the coaching perspective — you can sign up for those here if you like. And more about my coaching practice here.
One of the biggest things that I did that I loved this year was to rally a whole lot of support (and a bit of courage, too) and launch Justin Haaheim Coaching and Facilitation in service to leaders in social movements — that's what I'm doing now as my full-time work (more on that here).
That was terrifying and exciting all at the same time. I really saw the possibility of all that for the first time with some dear friends and a mentor of mine in Sacramento, CA for a coaching course. It's a dream I've had for years — really since I started organizing — that I'd be able to focus my energy full-time on the most exciting, ambitious, creative, courageous movement work I could imagine doing and get paid for it. For years I had been splitting my time and giving my evenings and weekends to the projects that I was most passionate about.
So in May and June I launched a fundraiser and 140 of you stepped in and said Yes to that, which stands as one of the most humbling moments of the year for me. It's hard to describe how joyful and incredibly energizing it was to see this community around me come alive and stand up to actively say Yes to a dream I have for building social movements. And we made it.
We made it, in fact, on a day when I was doing another thing I truly love. I was in Ann Arbor, MI leading a 350.org training for Michigan organizers, and in the midst of talking about campaign strategy and tactics and escalation and team building, I was turning on my phone on breaks to check my fundraising progress, knowing we were just inches away. So were lots of other people, I found out later.
Finally at lunch, I turned on my phone and saw the email saying that we had just passed the goal that I had set two months earlier — one which truly seemed impossible at the time. It was a goal that was so important to me and such a representation of what I truly wanted to do, and at the same time my mind was like a circus of reasons why it wasn't possible, we'd never reach it, I wouldn't have enough time, or no one will actually donate. Really? $7000 Why not try $2000.
It's maybe the most powerful lesson I've ever learned that's a demonstration of the coaching I support others with: dreams really are reachable, and that voice of doubt and worry is normal (Buddhists call it "monkey mind" — you can almost imagine the bananas flying). The only real question is am I willing to go for it, and am I willing to ask for some support along the way to navigate the monkey mind and lift the "fog".
And the truth is that people in this world are truly here to contribute to others. Once I was willing to see that, the possibility of reaching the goal finally came into view. It was no longer a hopeless struggle — it was a chance for me to explore and experience truly how much support there is around me. I just needed to be willing to see the possibility beyond the problems, which was both the simplest part of the fundraiser, and the most challenging.
It's a challenge that I'm back up against as I'm writing this. Writing is one of the things I love to do. This last year I started writing more, and one of the goals I set and reached was to publish my first article in a series called "Meetings that Build Movements", looking at why meetings can be a drag and how to make them purposeful and awesome. Here's that article.
But writing can also be a challenge for me sometimes. I set a goal last year in May to write and send out this "holiday newsletter" by December 9th, and, as you can tell, I didn't reach it. Looking back, I can tell you candidly what was coming up for me around that time: "I don't want to write a newsletter that would let people down." It showed up as a kind of perfectionism. (And it's no wonder I didn't finish it: writing a newsletter that doesn't let anyone down is a lot harder to write than a newsletter that's about simply sharing my life with people I love.)
It's not terribly glamorous to share that, but I figured it was worth it if any of you can relate, even in your own way. The truth is that the worry about not letting people down has got a lot of love behind it, and that it's not who I am (or any of us are, really). Just some particularly juicy monkey mind.
Two more stories, and then I'll wrap up: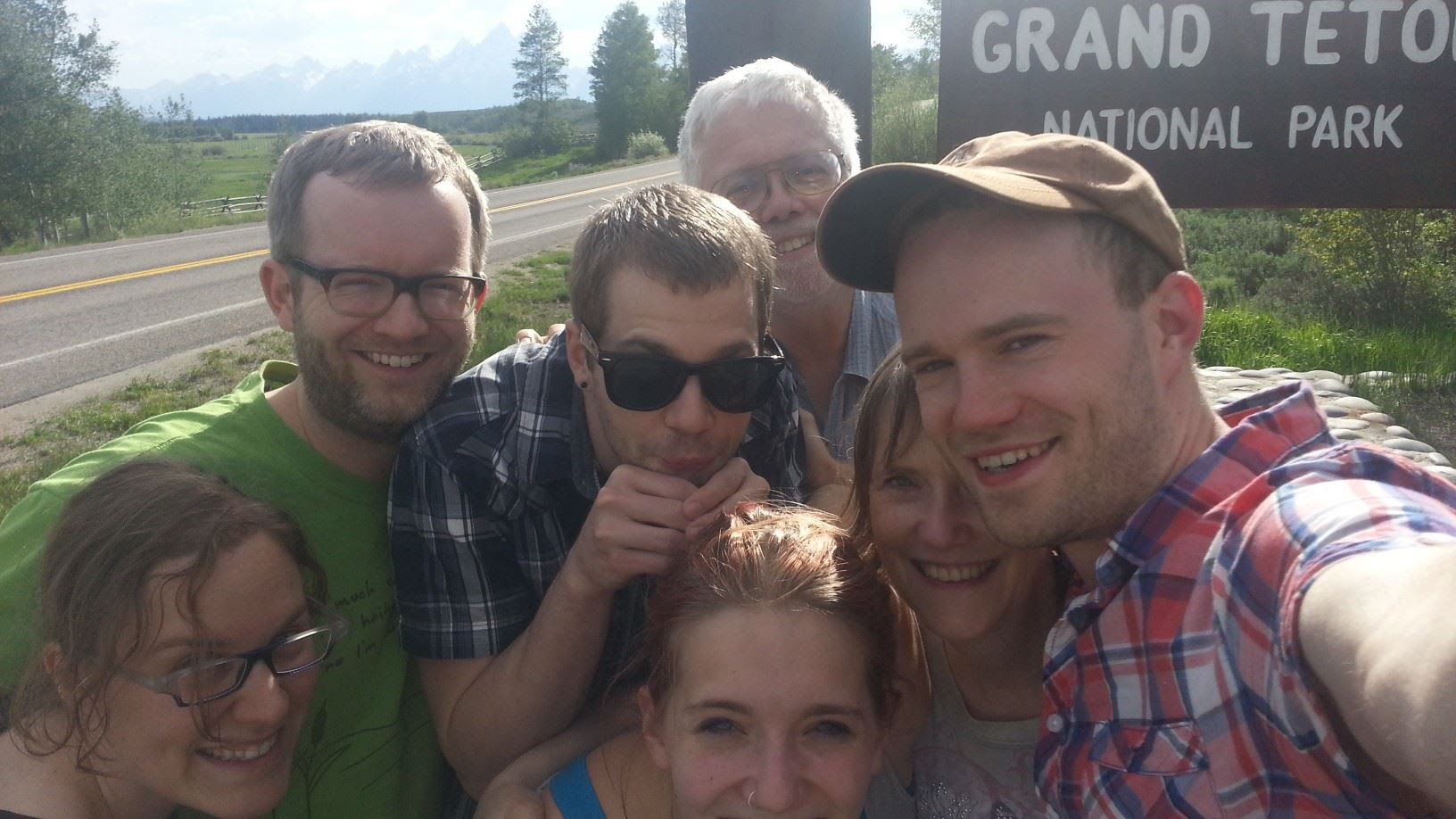 One fun part about my fundraiser was that smack dab in the middle of it was our 2013 Haaheim family vacation. I know some people aren't as keen on family vacations, and probably most would balk (understandably) at the idea of spending two weeks in a motorhome with your now all-adult family, which makes me all the more grateful for my loving, supportive, and hilarious family. I loved it.
It was a Christmas gift last year from my siblings and me to my parents: two weeks to head out west to the Tetons in Wyoming, a place that truly feels like home when I'm with my family, and to enjoy some old, cherished memories and make some new ones.
Unsurprisingly, when  the motorhome came lumbering out of our neighborhood and started down Highway 41 towards I-90 which would take us west, we started blasting and rocking out to "Highway to the Danger Zone" (the anthem from Top Gun). My siblings and parents are all such accomplished, inspiring people, but one of the things I love is how ridiculous we can all be together.
One especially sweet part of the trip was a hike that me and my siblings (plus a brother's lady friend) took up to Lake Solitude, deep in the Teton range. My parents came along for the first part of it, and my dad, who had been having some back problems and knew he couldn't hike long distances, decided he wanted to accompany us anyway and just hike as long as he could.
And he did. He not only made it to Inspiration Point — a beautiful outlook over all of jackson hole, and the place we were expecting him to turn around — but after a break for pictures and a snack, he we as the first one ready to keep going, and cruised past all of the rest of us. We were joking that we should've loaded him up with our packs for the two nights ahead of us, just to slow him down a bit.
One of the other particularly exciting parts of the year was the unusual, unexpected and totally ridiculous opportunity to perform on live national television (videos are up here). In February 2013 I got a call from my friend Colin, and he asked if I'd be interested in playing for a music project that would take full day in April, plus some rehearsals, and the rest was secret for now. Who wouldn't say yes to that?
The next thing I know, it's 4am on April 9th and I'm on a bus with 54 other musicians (lots of friends and acquaintances) on our way down to the Hammerstein Ballroom in NYC, where America's Got Talent was taping all the new acts for Season 8. By noon we were standing backstage. Nick Cannon had just interviewed us, and we got the cue to walk out into the bright lights and get ready to play. The four judges (Howie, Mel B, Heidi and Howard) were all staring us down, obviously skeptical of how interesting we would actually be. And behind them were four thousand people.
The lights came up, they gave us the go ahead, and this pick-up group of friends and musicians from New Haven started performing a rendition of "Call Me Maybe" (Carly Rae Jepsen) for chorus and orchestra. I will never forget the moment when we started playing, and for about 10 or 15 seconds I don't think either the judges or the audience knew what to make of us. And then it was like all of a sudden the crowd got it, and they went crazy.
The best part is that we actually advanced all the way to the semi-finals. We had all come in pretty light-hearted about the whole thing, and virtually certain that we'd go on stage, play our bit, get some laughs and have had our moment of fame.
The semi-finals happened at Radio City Music Hall, and not only would we be on television again, but it would be LIVE — exciting enough that my parents flew in from MN to see it. The week we spent there in August, herding our small army back and forth between the costume room and the lighting room and the stage, was fun but not altogether glamorous. We spent most of our time in the basement in what we dubbed our "holding pen", and weird things would happen like the time when Howie Mandel needed to walk through the area and his handler walked in ahead and yelled repeatedly "Do NOT look at Howie in the eyes. Do NOT look at Howie in the eyes." Totally normal.
Finally stepping out onstage was even bigger and better than the time before. The lights were stunning, including the bajillion LEDs we had taped to all of us and all our instruments. The crowd was enormous. We knew we were being broadcast live. And when we started, it was that same thing again: the crowd was virtually silent for the first 15 seconds of our tune (this time it was "We Are Never Ever Getting Back Together" by Taylor Swift), and when they finally picked it up they went wild. Colin was playing percussion next to me for this one, and when we heard the crowd we glanced at each other with a look that said "This is crazy."
It was a sweet year, and sweeter for all the ways you were a part of it. Write back and let me know how you're doing — I'd love to hear from you!
Much love,
Justin